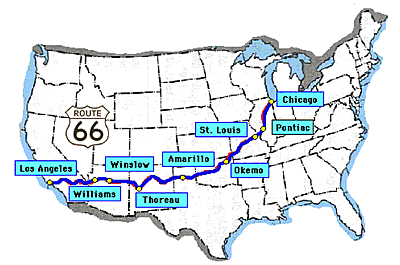 Who can say they've driven across the country?

Not from here to D.C., or here to New York, or here to Florida – but through the heart of America, the very belly of the beast, virtually coast to coast?

I hope to make the trek this summer on the Mother Road- Route 66.

Grandma first gave me the idea this past summer, when she told me about the many times she's had to drive from here to California and back (once all by herself) and what an experience it was. Chicago trip last April, I've felt the pull of non-Michigan states; wanderlust is catching, friends, and I've got it bad.

What better way to see the country than old 66, a non-defunct highway that ran from Chicago to Los Angeles over 2,500 miles of mostly two-lane roads through Missouri, Kansas, Oklahoma, Texas, Arizona, and New Mexico?

Even though Route 66 is not recognized as an"official" U.S. highway, there are still historical societies and towns along its route that keep the road alive.

While the government may have taken down the road signs, the locals have put up some of their own.

The details of the trip are still being formulated. I have a lot of research to do. For instance - what car do I take? I wouldn't trust my own Dynasty across the country. It's a good car, but not that good.

Also, this will be a long trip - will I have the time with my remaining vacation days? And then there's the route. There are maps and guides available, but my absent sense of direction (and a dash of Murphy's Law) says something will happen, somewhere along the way, and I'll get into a tight spot.

But those aren't barriers - merely obstacles to overcome and think about.

I'm thinking that maybe it would be smarter to rent a car for the trip, take my time traveling the Mother Road, and then high-tail it back to Michigan on an interstate freeway (40 or 80 come to mind).

As goes Route 66, so I go.

I have nothing (besides work) tying me down, I've always felt a strong passion to travel (I think I got that from my dad), and I'm sure it'll be an experience of a lifetime.

These are all obvious.

What's not as obvious are all the adventures, sights, and people I'll encounter along the way. That's the exciting part: not knowing what'll happen.

It could be an absolutely boring trip (thinking of driving across New Mexico and Arizona- not to mention Kansas - is not what I think of when I imagine "exciting"). But then it could alter my perception about the size of the country (the first thing gramma pointed out), the people that live along the way, and my own sense of self and place in the world.

I'd like to get my kicks, all right.

And I know just the road to help.