I didnt even need the alarm; the excitement of waking up to a day full of comics was like caffeine in the bloodstream. But I would still need my coffee. Shower, dress, and on to breakfast. This was how Saturday started.
Day two of Geekfest 2005: Wizard World Chicago.
Gugin and I went to The Great Expoteria, a café run by Hispanics that was attached to the convention center. Our styles couldn't have been more different: Gugin with his modest bowl of Chex, me with my eggs, French toast, bacon, hash browns, OJ, and coffee. I barely had room on my plastic tray. We sat and talked about the day ahead: where we were going, whose autograph to nab, which comics were on our to-get list and watched as the other comic nerds drifted by. We even saw former wrestler Virgil, probably fresh off a cocaine snort for breakfast, enter the arena.

Gugin left me to get a head start, while I sat and enjoyed my meal. Goths, Star Wars freaks, comic nerds, Animé perverts, toy collectors, gaming dweebs, genuine artists. They all filed past my linoleum-topped table. Over the PA, Bono crooned about still not finding what he was looking for. Something about a burning desire, but I think the irony was lost on these fans. Bono was singing about greater topics - love and life - while for the conventioneers, it was all about searching for The Missing Piece. The Hidden Gem.
At , I finished breakfast and hit the Wizard World floor.
* * * *
For the modern comic fan, the Antiques Road Show-style booths had no place at Wizard World. The Golden and Silver Age comics (typically, anything before 1980) held no appeal to the kids. The booths honoring those historical reads looked almost forlorn, waiting for the silver-haired who still Gave A Shit. I felt bad. Here was the basis for most stories written today, and anyone my age and younger walked right past.
Instead, todays fans were looking for nothing older than 1995 at best. They were all pilgrims, looking for Jesus's lost toenail. In today's hyperbolic market, however, the toe changed from month to month. Yesterday's hot comic was in today's three-for-a-buck bin. This was Capitalism's 20-year-old virgin cousin, Comicism. And Wizard Entertainment was partly to blame, with its Top 10 lists and readily-available pricing guides. All this energy flowed according to the whims of a superficial market, and no one ever called them to task for making us waste our money on such pulp as Youngblood or anything Image produced in those early 90s comic boom days.
Its a helluva atmosphere to start puberty with, as I had, and I could feel its effects even now. All ready I had paid $7 for an Adam Hughes-penciled JSA: Classified #1 variant cover edition to get autographed by AH! himself later in the day. I was even looking at an Aspen Comics #1 going anywhere from $60 at one booth to $99 at another. "Do they take anything other than cash?" I asked myself.
I did notice the crowd change from yesterday's peak geek population to todays couples variety. Today was for those who didn't take the day off for Thursday and Friday. Less freaks, more boyfriends dragging their reluctant girlfriends to the party. The horror those poor women must have felt, I can't imagine, but they were dueling for their boyfriend's attention with Marvel's Hulk girls who promoted the Green Giant's new video game.
These ladies were in the right placed to be promoting something.

While waiting in line for Adam Hughes, plenty more costume junkies passed by. I saw Superman chatting with a Johnny-Depp-ish Willy Wonka. I also saw something that warmed my increasingly cynical heart: A father, with his two sons, searching through their collective collection for anything by Adam Hughes to get signed. It was a sight. Here was a father passing down the stories, art, characters (boobs), and a mythology as rich as Homer ever inspired down to his two young boys. Instead of animals, they were sacrificing Cash and Time, but the time was spent together.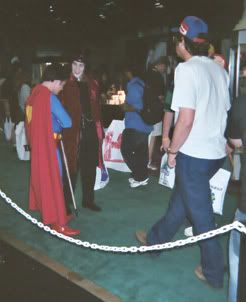 A meeting of the minds. Could this be the new super team?
Adam Hughes draws really great women. That's the only reason I wanted his autograph. And I think thats why comics come into young boys' lives right when the teenage years begin. Who has better looking women than comics? Stan Lee KOs Hugh Hefner a hundred times over every month.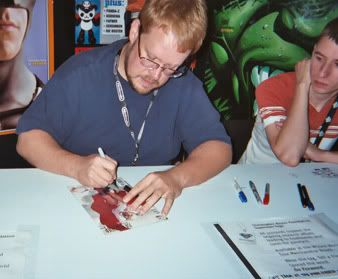 Things that make you go AH! Thanks, Mr. Hughes.

* * * *
After my AH! Autograph, I headed to the Will Eisner room for Brian Michael Bendis's (Ultimate Spider-Man, House of M, virtually everything else Marvel produces) seminar, "Writing the Essentials with Bendis." I showed up to a packed auditorium, with surprise guest-writers Paul Jenkins, Greg Rucka, and some other chap I don't recall. It was great. They talked about the elimination of thought balloons (economy of space), how artists and writers see the world differently (writers hang out in malls to hear how people talk, while artists figure out the shadows and polygons of the building), and how seriously these guys take the history of the characters they're dealing with.

"Spider-Man isn't broken," Bendis said. "You're just in charge of telling new stories."
And each hero, Bendis said, features a type of philosophy. "With great power comes great responsibility" is something you can live by, he said. When you pin a character down to real experiences and a guiding principle, within the established framework of Those Who Came Before, people start making connections with the hero.
Something else: What drew you to a certain character to begin with? Write about that, the panel said.

This was brilliant stuff.

These guys are just sitting around, dreaming about nasty villains for Captain America to pummel every month (well, maybe a bit). They had really thought about their characters. And being writers, they had stories to tell.

"You're a writer because theres something you have to do," Bendis said. "There's something inside that you have to get out."

I was so impressed with what I heard, I grabbed Gugin and jumped in line to get Bendis's autograph. In the meantime, I won an Avengers (vol. 1) #4 reprint in a raffle, and an issue of Wizard by answering which fast food joint was painter Alex Ross's favorite. I complimented Bendis on his panel when I met him. He autographed three comics for me, which I appreciated, and I went out an bought the entire New Avengers line he masterfully wrote as thanks.



Me chatting with Brian Michael Bendis, probably giving thanks to his great writing seminar.

* * * *
By the time the day ended, I had exhausted my cash flow. But I told artist Josh Middleton that I would return to grab a Pyslocke print (for his X-Men Unlimited cover) he had made. It was gorgeous - I couldn't take my eyes off it - and had intended on framing it. I would return tomorrow morning with the required $15.

In the meantime, Gugin and I headed downtown again for dinner. By the time we ate, however, it was almost 10 p.m. Gugin had to take some pictures around town, in the dark. So I complied. He had, after all, never visited The Mile in Chicago.

We had dinner at a cool restaurant, the Rock Bottom Brewery, where we drank eight types of beer and ate like kings. A $40 dinner, and worth every penny. Its my philosophy that, on vacation, you're allowed to spend as much as you want on yourself for dinner. I'm happy to report I followed my own creed.
We had good conversation, and watched the kids stroll by in their hootchie outfits. "Do Chicagoans come downtown?" I wondered.

I took Gugin down Lakeshore, near the Navy Pier, and along Michigan Ave. near Millennium Park. The signs said the park was closed, but in true ATO style, we ignored them. That is, until the park Nazis screamed "Parks closed!" at us from the shadows. We came back to the Rock 'n' Roll McDonalds from the night before, so Gugin could get more pictures, and I met a guy from Missouri who was easily recognizable as a conventioneer. "Wizard World Chicago," his black t-shirt said. His wife was shopping all day while he handled the expo. Smart woman, I thought.

"Jesus God," I thought, "there's a hell of a lot of young kids eating fast food at on a Saturday night in downtown Chicago."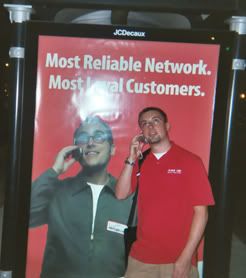 What a dork. I had Gugin take this one on our way home.

Sleep came easier that night. I was dead tired. Superman's-dead tired. Tomorrow was the final day. Sunday. And I still had a list of comics to grab before we left Illinois.

I did decide to forgo the Aspen #1 variant issue. I thought $60 could be better spent on the discounts the vendors would no doubt feature in the final expo hours. I would be ready for them. First, sleep. Then, load the truck. Afterward, breakfast.

Then, Wizard World, day three.


::: to be continued :::