What a weekend it was.



The architects: Keith, my BOT vice president, and me. Over the past two years we've worked together really well to get our alumni inolved with the chapter, culminating in this year's homecoming. We were busy, and it took a lot of work, but it's always worth it. Thanks Keifer!




Our first big event of the weekend was the ATO All-Star Alumni Softball game. Here's Brent taking some practice swings before we play. We grilled out and enjoyed the sunshine.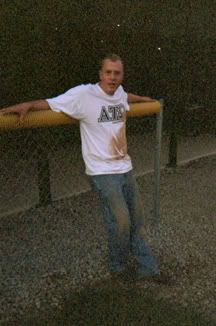 MVP of the game? Probably Cowboy. This dude slid into home, slicing up his knee and ripping his jeans. What a player.




After the play Cowboy and Steve met on home-plate to share a chest-bump. Now Steve's dirty, too. That's my team!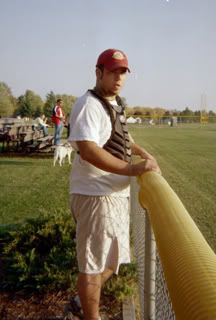 Speaking of Steve-o, here he is with the catcher's chestplate we found. We had access to the entire softball field, the scoreboard, the dugouts, everything. Keith did a really nice job of helping everything come together.




Brent and Caleb meet at the dugout. After a while it got so dark we couldn't see the ball when it was hit. The game got a bit dangerous. So we quit after the "alumni" team won 11-10 (or something close to that).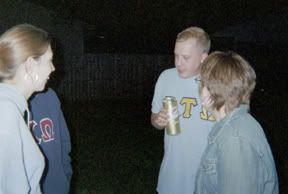 After the game we all met back at the house for a bonfire, and a chance for us to meet up with the guys who were showing up later (Gugin, Nemo). Here's Cowboy displaying his Miller High Life can proudly to wife Sarah and Chi-Omega alumna (and Keith's girlfriend) Margo.





I have this picture pose (see my profile pic) that I get picked on about a lot. So Nemo and I decide to do "The Dave" together, while Gugin (fresh on arrival) and Brent do their own thing. I'm always so happy when Gugin shows up, usually out of the blue.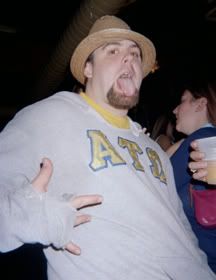 Nemo with someone's hat on. He served as BOT president last year, but I hadn't really talked to him since. It was nice hanging out/drinking with him.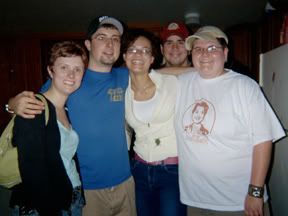 Here's Andrea, me, Shanita, Steve-o, and Annie (notice Annie and I switched hats) before heading out the bar. The crew, re-united.





Andrea (looking adorable) and Holly (or "Shablamo") at the Barley House in downtown Adrian. You'll never find Andrea without a deck of cards, drinking games sure to follow.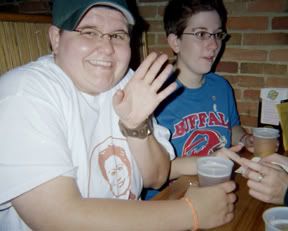 Annie and Leslie, fresh from Ohio University. This was Annie's first Homecoming since graduating. Annie was one of my best buds in Student Government and elsewhere - we made a good team, and she's a lot of fun. So is Leslie - her first time in Adrian. I went to visit them, with Andrea, earlier in the summer. They made great hosts.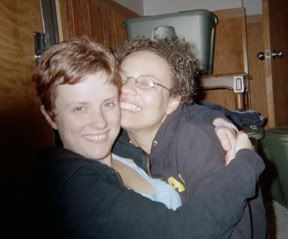 After we returned from the bar, we all settled in for more drinking games. Andrea and Shanita started wrestling around, so I got a pic before things got rough. Shanita looks a little toasty, no?




Saturday was game day, of course. We have a tent at the game, near the endzone, where we can meet and greet. Here's the returned Shawn and president Andrew with the flag. We had that tent packed with alumni. It was great.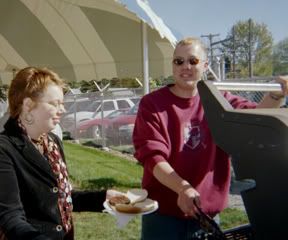 Cowboy manning the grill. That was my job last year, but if you wanted something this year, you grilled it yourself.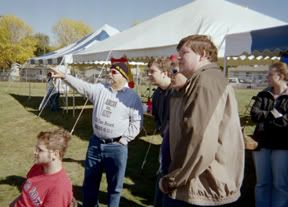 Dr. Elardo, our chapter advisor, makes some profound point. The guy in the lower left-hand corner, James, is a pledge from Massachussets and a neat guy. A bunch of us went out to breakfast before the game, and he told us the differences between the midwest and New England.




Jordan(!) showed up, as promised. We met over the summer for lunch, but it was good to see him at Homecoming. He only stayed for Saturday, though. Jordan and I were good buds while at school, and debated quite a bit. Fun guy.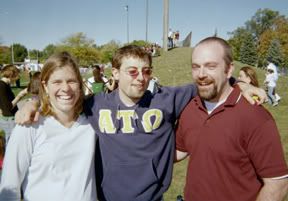 ...but when I heard my big brother John Neff was going to be there (with his lovely wife Laura, who is having their first kid in November), nothing could make the weekend better. I hadn't seen him since last year. He's done so much to influence me in all matters ATO, and life, that if I don't get to see him at Homecoming, it's a sub-par year.




Gugin, of course, is the other must-see at Homecoming. Here he is with his World Champion metal from a martial arts tournament. Bad ass.




Andrea and I hanging out in the alumni tent during the game. We've had such a fun, exciting summer together - with Shanita and other friends - that I almost spent as much time with her as with anyone else the whole weekend.





After the game was our yearly all-alumni meeting. Here's everyone settling in the meeting room, Steve hanging out on the floor.




My little bro Andrew, getting ready to start the meeting. He made a wonderful PowerPoint presentation on the status of the chapter. I've never been more proud of him than I was this weekend. He's really helped to turn the chapter around.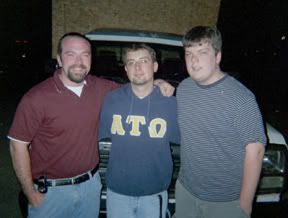 Three generations, right here. One of the more humbling and misty-eyed moments of the weekend came when my big bro Neff and my little bro Andrew chatted about the new website we're developing and the state of leadership in the fraternity. It was so cool to see them interact.




The Krukowskis - a dynamic duo. It's fun to watch these two together, too. Andrea's the "big" sister, but when standing next to Andrew it's hard to tell.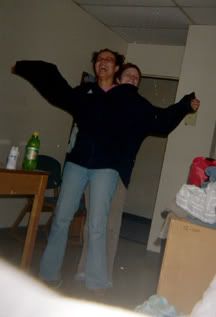 We had so much fun Saturday night bar-hopping that Sunday was spent being very, very lazy. A bunch of us went out to dinner with former-Student Affairs VP Pam Boersig, then layed around and half-napped the rest of the afternoon. Here Andrea and Shanita both fit into a jacket they found.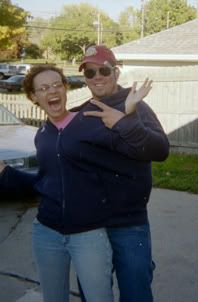 Shanita and Steve-o give it a try, too.

- - - - -


Homecoming weekend was always one of my favorites as an undergrad, but it's getting better and better when you don't see people you love for a while - then you're thrown together over one weekend.

Homecoming also gets me fired up as an ATO. The chapter is running so smoothly now. They have a desire to do good things, and as BOT president I can only watch and admire how they conquer this year.

Thanks to everyone who showed up. I hope you all had as much fun as I did. It was great seeing everyone, catching up, and creating more memories to add to our already growing stock.

Love and respect.