Just sharing some pics from my Rotary MadiZONE conference in Madison, Wisconsin:





The capital building in Madison. All the streets are set up so, no matter where in the city you're at, you can see it. Just gorgeous.




My gracious guides and travel buddies, Jim Goodwin (past disctrict governor and member of my Rotary club) and his lovely wife, Polly.




Jim and I at the first breakfast of the week. I was jealous of his nifty Rotary shirts. I got one that said "Rotarian at Work" on the back. I felt better.




Madison is on an isthmus, a land bridge between two lakes, and it offers some great walking trails along the University of Wisconsin. Beautiful weather, luckily, but I can't imagine it in January.




We were fed well at the conference, and I had the chance to meet tons of lovely, friendly Rotarians. But I wish we could've had a few meals to go explore the town's restaurants. As you can see, I was the youngest person in attendance...





Except for the lovely Emily, from Chagrin Falls, Ohio (a great Tragically Hip song, I told her). Emily was 22, and had spent a year in Senegal courtesy of Rotary. She came to the conference to speak of her experiences, and to raise money for a school lunch program she and another student, Aimee, helped develop. They raised $11,000 in three days at the conference. Just outstanding. Anyway, we hung out quite a bit because...well...we were young.





I also met Ralph and Pat from Port Clinton, Ohio - very nice people. I ran into them along the lakeshore on our free afternoon, so we sat and enjoyed the Wisconsin sunshine and fresh air.




They snagged a picture of me.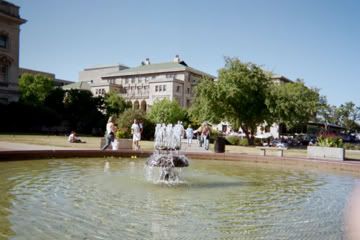 While I only saw a small portion of campus (lots of hills!), the University of Wisconsin was pretty spectacular. There were lots of gathering places, like near this fountain, for students to soak up the sun.




But when I rounded the corner, into a quad of some kind, I saw this: a group of students gathered around a ranting preacher.




He's in orange/pink, next to the sign. I couldn't tell whether it was some sort of public performance, or a genuine "You're all going to hell" sermon, but it was fun to watch. And the students got into it.




But amid the evangelism was this little girl, coloring in her book, sitting next to this awful sign. I thought it was a neat juxtaposition: she doesn't know the hate being spewed around her. She's just enjoying the weather and some arts and crafts.




This Lincoln statue sits atop this huge hill on campus. People around Madison say it's pretty famous, and it's the place students like to go before exams (kind of like the seals at Adrian). A few of the local Rotarians also claim it's a spot to take your date and...um...do it.




Madison has this one main drag called State Street. No traffic is allowed, it's just for shopping, eating, and museums (like here). It reminded me of Ann Arbor's campus, but on one street. I bought a Buddha statue and a flask with Jesus that says "What Wouldn't Jesus Do" on this road. Cool place.




Just like Chicago. I saw a guy walking his dogs on his Segway. Crazy liberals!




I had to get a picture with this guy, Steve. He looked just like John Kerry. And he knew it.




Saturday morning I skipped part of the conference to head to the Farmer's Market on the capital square. One square mile of baked goods, produce, and - here - red hot chili peppers.




Here's the bee guy, complete with hive on his head. I had rubarb pie and OJ (that's my cup) for breakfast, and bought some honey from this guy and some rubarb preserves for the trip home. Yummy!




When we left on Sunday, we took US 12 all the way home, instead of I-94. We stopped at a burger joint in northern Illinois when a red helicopter pulled into the parking lot. Near the tail prop, it said "Danger." No shit.

All in all, a great trip. I learned a lot about Rotary, and Wisconsin.