"Blessed are the Poor in Spirit, for theirs is the Kingdom of Heaven." -- Matthew 5:3
- - - - -
What are you thankful for?
I'm thankful that a recent canned/non-perishable food drive we sponsored here at work was
such a success
.
Some background: One day, when I was a kid, my grandpa filled up a grocery bag full of food and stopped by Jackson's
Interfaith Shelter
for the homeless. He grabbed the bag from the back seat, told me to sit tight, and headed to the backdoor of the shelter where he handed a man the grocery bag.
I don't quite remember what he said when he got back to the car, but the point was made: do what you can, when you can, and all that you can, for those who can't do for themselves. It's an image that has lasted with me to this day, and speaks more to the giving spirit than any Bible quote.
I recently learned in my Rotary meetings that the shelter was having a tough time collecting food because everyone was giving to the hurricane relief effort. When big, national disasters happen, local charities tend to suffer.
So when my boss and I brainstormed small events we could do at our new Vandercook Branch, I thought we could sponsor a canned food drive to help fill Interfaith's winter stock. We made up flyers and attached them to a local grocer's paper bags, telling our members to fill the bags with non-perishables and return them to the branch, so we could fill our American 1 van up with food.
The van wasn't entirely filled, like I had hoped, but we did collect quite a bit from members and employees.
Our CEO also gave us $200 to go shopping with. I pitched in enough to get two giant coffee cans (hey - no one should go without) and a palette full of baby food. Above is what the van looked like after we filled it.
When we dropped all the goods off last Friday, the folks at the shelter were helpful, friendly, and appreciative. They even helped us unload the food. One old guy even had a "bad ticker," but he climped the two flights of stairs to the pantry just like the rest of us.
I don't mind getting mushy. When we pulled out of the shelter's driveway, I couldn't help feeling proud and thankful that we had the means and the wherewithal to help the homeless in Jackson. It's just a small token - lord knows all of us could afford to help more - but it's something.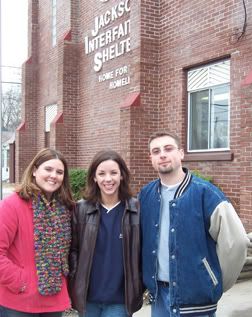 Lisa, Kristi, and I outside the Interfaith Shelter.

Mother Theresa said "Never turn your back to the poor. For in turning your back to the poor you are turning it to Jesus Christ." So I think instead of being so concerned with giving gifts to everyone this Christmas, I'm going to concentrate on giving to those who don't have anything ("Where your treasure is, so is your heart," Jesus said).
I've got enough crap. I don't want for anything. So please - any thoughts of exchanging presents this year, just make a donation to your local homeless shelter. Instead of giving your family members a gift certificate in their stockings, give a donation to a deserving cause and let your family member know you made it in their name.
And don't keep your generosity limited to December - keep it going all year.
Even a bag of groceries, maybe every month of so, would help out so much. It's what I learned so many years ago, and it's what I'm thankful for this holiday weekend.