There's nothing like going away on an adventure, but then there's nothing quite like returning home, either.
Pulled back into Michigan about 2:00 this afternoon, much earlier than I had expected. I drove like hell through Nebraska and Iowa yesterday and last night, pulling off at a rest stop near Iowa City about midnight. Got up at about 7:00 and hit the road for the final stretch.
Got to grandma's just in time, too - she had made taco salad for lunch. She didn't think I'd make it back until late tonight or tomorrow (Monday) morning. Pssh. Showed her.
It feels good to be home. And it's interesting that it's 90 degrees here, because it's what I've felt since at least Wednesday.
Lots of unpacking to do, and organizing, and all that good stuff. Got my Arizona pictures developed (though the idiots didn't make the CD I asked for) - and am sharing a few extras here.
[This is at the "Cadillac Ranch" outside Amarillo, TX, where there are 10 Cadillacs buried in a field, and you can go up to them and spray paint them. I wanted to do something dramatic, so I stuck with white and black paint and painted my sort-of motto during this whole trip. Turned out nice, and the Brit bloke Rich helped me out a lot.]
I've never driven through winds like I did in Nebraska. I've never seen such beautiful mountains as I did through Colorado. And I've never seen a more breathtaking state than Utah. And those weren't even on the official "Route 66" trip - they were just extras I passed through along the way home.
Quite an experience. It hasn't sunk in yet, really - where I've gone, what I've seen, what I've been through.
When I landed in Jackson about 3:30 it really felt like I hadn't left at all, for some strange reason. Maybe because I was back in familiar territory. Who knows? But thinking to myself "I just drove home from California" seems unreal.
Did it happen?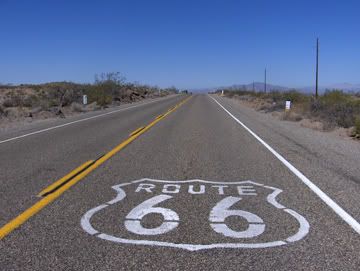 You betcha it did.
It's good to be home.