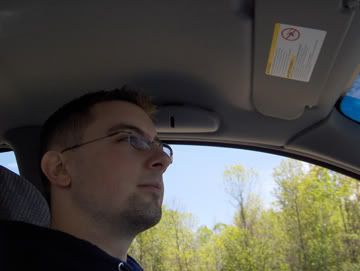 Tonight I'm spoiling myself.
I just paid $60 for a night at Days Inn, about $30 more than I've paid
the last two nights. But you know what? A pool and a high-speed
internet connection is more than worth is. Besides, I can walk around
here in my undies and not have to explain myself to the authorities.
Today was spent winding through Missouri and Oklahoma. Yesterday I
met St. Louis, after a bit of a back-track spell, and the mighty
Mississippi, gateway arch and all.
Illinois paled in comparison to the beauty of Missori. The Ozarks,
the lush green forests, even the fresh smell of the state was more to
my liking. But they are not as proud of their Route 66 heritage as
Illinois and now Oklahoma are. Instead of the "Show Me State," it
should be the "Just Get Through Me State." Or the "Dave Gets Lost State," because it happened here more than anywhere else.
This morning was a bit of a scare. My gas tank was on E, and I headed
toward what I thought was a town with a gas station. Instead, it was
a group of trailers, double-wide, and an intersection. So my gas
light came on and I was getting frantic. The scenery was gorgeous, though. Swooping curves and steep hills through the mountains - and everything was steaming because of the heavy storm last night. I hit the interstate and
luckily found a station ($2.50 a gallon!) and a spot for some crappy breakfast.
Last night I stayed at the Vermelle's Motel, a route original, and met
the 40-year owner, Ed. There were only me and three other people
staying there, and I was lucky to catch it. Ed's billboard came right
before the exit, and I barely made the turn in time. And despite its
shabby appearence, the motel was clean and cozy. It even had the bug
zappers and crickets. If it wasn't for the bad thunderstorm last
night I would've slept perfect.
I cheated and took I-40 for much of Missouri, but the route ran right alongside the highway so I didn't feel so bad. Hell, I just wanted to get to another state, as pretty as Missouri was. I got a bit lost around Springfield, but used my maps and found my way back to the route, and headed into Kansas. Kansas lasted all of about 15 minutes, and then it was Oklahoma.
If Missouri was a jewel, and Illinois was a slab, Oklahoma is more
like a really pretty stone (just go with me on this one). Sure, it's
flat and farm-rich and really warm, but it's also pretty in its own
way. It has some of the hills and scenery, and some longer stretches
where it's just you and the road. I zoomed past Tulsa and ate in
Bristow, where I met two farmers - Bill and Bob - who were very nice
to talk to and my only real source of conversation so far. They were
cotton farmers, and knew all the ins and outs of the route. What's funny is they seemed just as pleased to talk to me as I did with them.
I left Bill and Bob around 8:30, and it started getting dark. I wound
my way around to I-44 and decided to hop on to find somewhere to stay
for the night. Oklahoma City is also off I-44, so I may just take it
all the way into town.
Which leads me to Days Inn. A pretty Okie (with a ring on her finger)
met me at the counter. My first question?
"How late's your pool open?"
"11:00 tonight," she said.
"Then I need a room."
She even lent me an ethernet cable to make this e-mail possible. So
here I sit, fresh out of the pool, and getting ready for bed.
Ready for some pictures?
Into Chicago, probably my favorite spot on earth. Traffic was a nightmare getting in.
At Millennium Park - near the amphitheater. I have many more pics to share.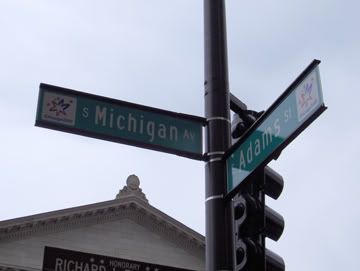 The birth of the Mother Road. Here's where it all starts, right downtown.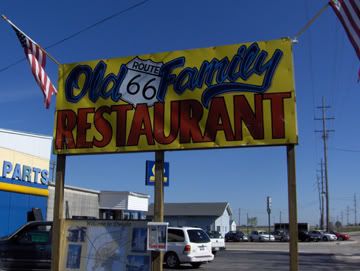 That first night was mainly spent trying to find a place to stay. When I did, I ate here (thanks for the call Dayna!).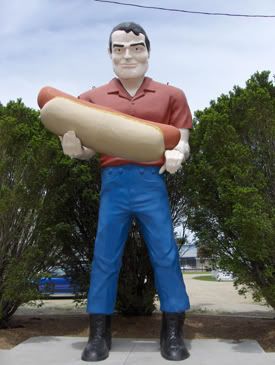 Yes, ladies, this guy's single. There are several of these giants stationed around Illinois (one was a spaceman, but I didn't grab a picture). Look at that weiner!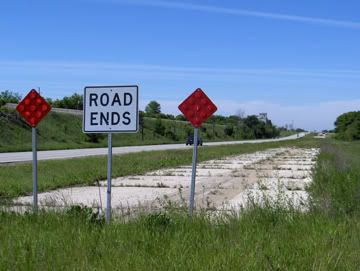 Through most of Illinois you can see where the old route ran. There are some parts you can still drive your car on, but I didn't take any chances.
Just me and the road.
When I finally did get into St. Louis, my first major goal, I headed straight for the arch and the Mississippi. The arch was huge, but I thought it crossed the Missippi into Illinois. My bad.
Race you to the top.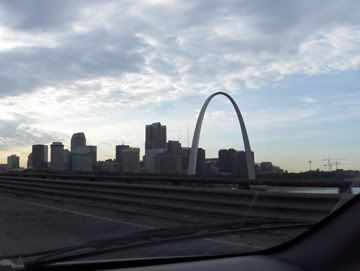 Take a good long look, because it's the last of civilization I'll see for the rest of the state.
I didn't even try to take any pictures of the highway and the way it swoops through the mountains - I'll save those memories for myself - but there were some very cool rock formations just about everywhere you looked. I think I can say Missouri is the most beautiful state I've ever seen.
The motel I stayed at on night two. Ed's Vermelle Motel. It's even in my guidebook. A cozy little spot, and Ed was really fun to talk to - even if I pulled him out of bed at 10 p.m. to get my room.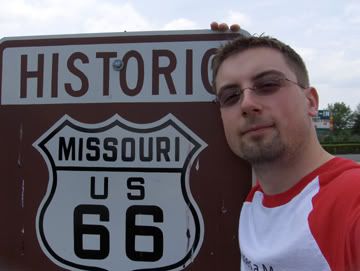 This was through the last leg of Missouri, near this giant drive-in movie theater for RVs.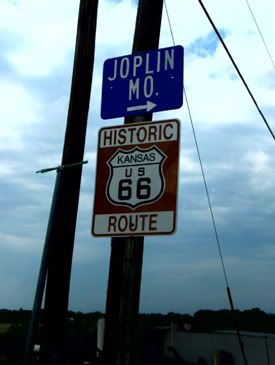 This was all I got through Kansas. The route only passes through Galena, and then on to Oklahoma.
The weather wouldn't make up it's mind, but it was hot - and it provided for some gorgeous sky. That's Oklahoma, flat and pretty.
I'm a sucker for a pretty sky. Here it is, the end of day three. Hard to imagine. And I thought about how each morning I'm waking up in a different state.
Tomorrow is the rest of OK and then on to Texas.
Who needs a drink?